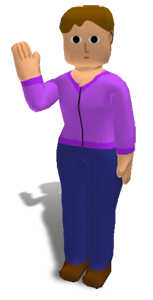 Story:
You play an aspiring young intern named Jennifer who has just received a lucrative internship position at Incomputech. In order to help her move up the much coveted corporate ladder, you must complete office tasks, chat with co-workers, and even go to Washington D.C. for a bailout to save the company from inevitable ruin. During this time, she meets interesting characters such as Doug Bader, the process engineer, and Harry, the hedge fund manager.
Gameplay:
Office DisOrders is a simulation whose core interactions involve talking with other characters, interacting with objects in the world, and giving and receiving items. The gameplay mechanic requires the player to perform office tasks that are requested by the other characters in order to progress the story:
Photocopying and mailing documents
Obtaining a parking pass
Finding missing employees
Coming up with a plan to save the company
In order to keep her happy and prevent her from quitting and ending the game, the player must also maintain Jennifer's four motives (Bladder, Hunger, Fatigue, and Thirst).